Üraippu Shrimp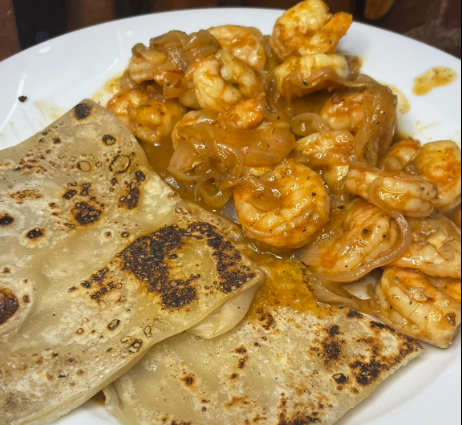 Years ago, I ordered these fancy ass sauces from @kitchenguerilla on Instagram.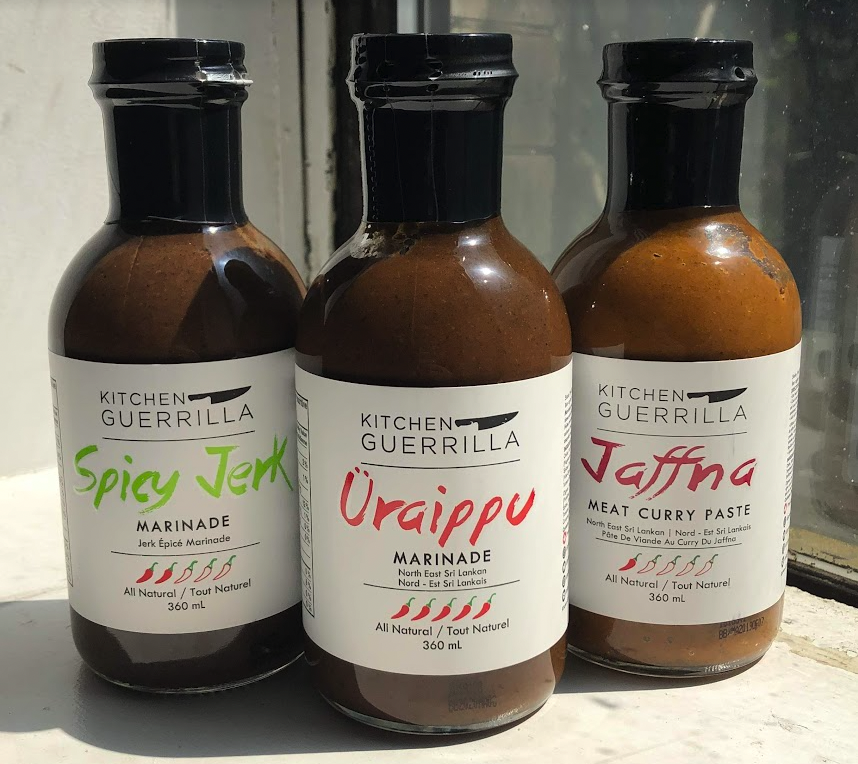 I wanted to pair uraippu sauce with shrimp.
Since I didn't see that pairing on his recipe highlights, I DMed him about it.

To my surprise, he responded!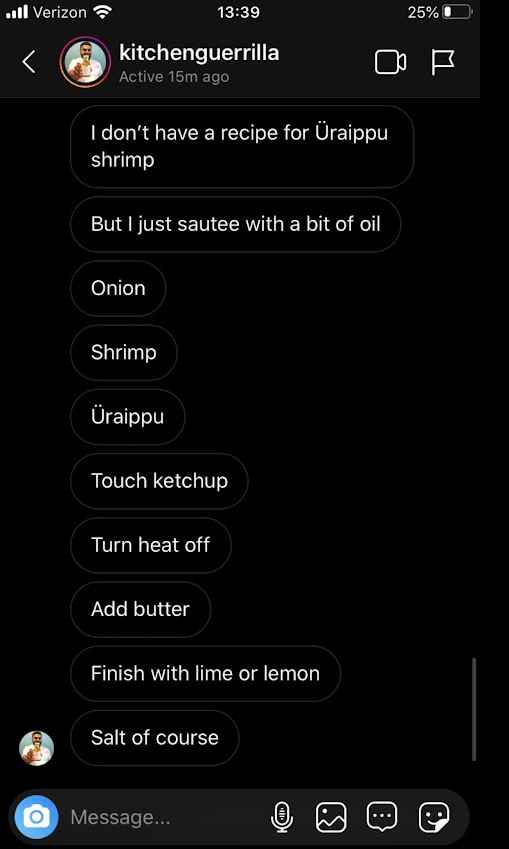 After making this 10+ times, I'm ready to share this recipe with you!
Setup
I use a wok for cooking this.
Method
Formula
Raw, deveined, tail-on shrimp - 2 lbs (908g)

Tail-off works fine too
I buy the raw 31/40 cleaned & deveined shrimp, tail-on in the 2lb pack from Aqua Best on Grand Street.
I remove the tails because the crunch doesn't pair well on this dish
I don't throw the tails away, I freeze them. I'll make a 45 minute shrimp stock with them.
I wash my shrimps thoroughly and pat them dry dry with paper towels.

Avocado oil - 1 TBSP (14g)
White onion, cut into half moons - 1/2

When these cook down, they'll add a caramelized onion type texture to the dish.

Uraippu Sauce - 6 TBSP
Ketchup - 2 TBSP
Butter - 1 TBSP
Lemon Juice - 1/8 of a lemon's worth
Sea Salt - 5g

As a general rule, I add 5g of sea salt per 1 lb of meat. But in this case, there's some salt in the üraippu sauce so I reduced it.
The Cook
Heat on medium-high
Pour in the avocado oil
Add the onion, turn heat down to medium low

Let this go for 10 minutes, until onions transcluent

Turn heat back up to medium high
Add the shrimp to the pan
Cook shrimp to 75% done, about 5-7 minutes
Add the üraippu sauce

üraippu means spicy in Tamil. The sauce has a blent of warming spices and fiery habanero
Keep adding until it's a deep red, almost brown color

Add a couple squirts of ketchup

The sweetness in the ketchup balances the üraippu sauce beautifully

Once it thickens a bit, turn off the heat. Remove the wok from the stove.
Add the butter and mix mix

This will gloss up your sauce. Adds unctousness

Squeeze in the lemon juice

This brightens the early part of the bite