Northern Eelam Goat Curry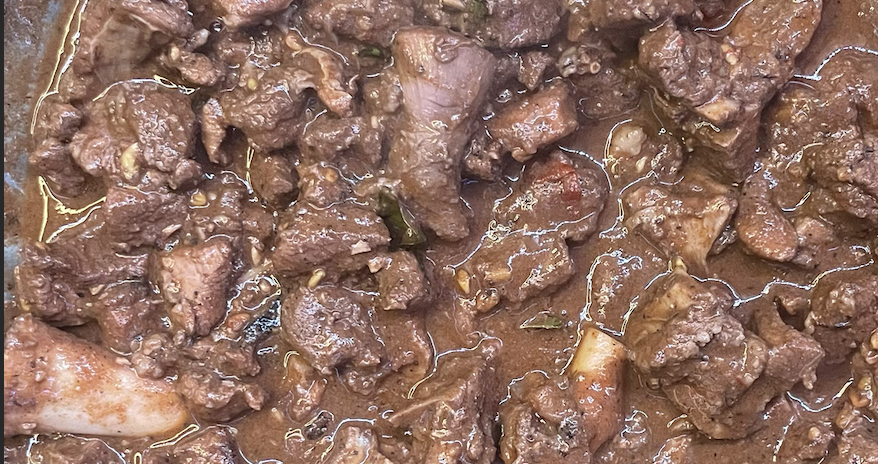 Goat curry is my favorite meat curry my family makes.
It was the first thing I learned who to make after leaving Maryland.
I wrote this essay, "Kill Your Culture", which was inspired by this recipe.
Setup
I use a wok for cooking this.
I pre-season the goat before it hits the wok in a big glass bowl.
Method
Formula
Goat Meat - 2.5 lbs

I prefer back leg only because its meat/bone ratio is higher

Avocado (or vegetable) oil - 1 tbsp
Fenugreek seeds - 1.5 tsp
Ceylonese cinnamon - 2 inches worth
White onion, roughly chopped into squares - 1/2
Jaffna curry powder - 3 tbsp

Curry powder varies drastically region to region. I use Niru brand curry powder, but any Jaffna style brand should work.

Garlic, minced - 4 cloves
Ginger, minced - 3/4 inch
Green chili, minced - 3
Salt - 12.5g
Black cardomum - 1
Perenjeera thool - 1 tbsp

Fennel heavy spice blend
Roast together [fennel seed 2x, cumin seed, coriander seed, black pepper, raw rice].
Grind to a fine dust in a coffee grinder

Curry leaves - a handful
Lime juice - 1/2
The Cook
Mix together in a bowl - goat meat, garlic, ginger, green chili, curry powder, and salt
Heat the wok on medium low
Add the oil
Add the fenugreek seeds, cinammon, and onion
Stir frequently for 10 minutes until onion is transcluent
Increase heat to medium high
Add the seasoned goat
Cook for 10 minutes until goat is browned
Reduce heat to medium low
Cover the goat in water
Put a lid on it and simmer for 1 hour

Should be almost tender by this point

Add the black cardomum
Cook for 20 more minutes
Add the perenjeera thool
Cook for 5 more minutes
Add the curry leaves
Cook for 5 minutes minutes
Remove from the heat
Add the lime juice

This brightens the early part of the bite