Amma's Shrimp Curry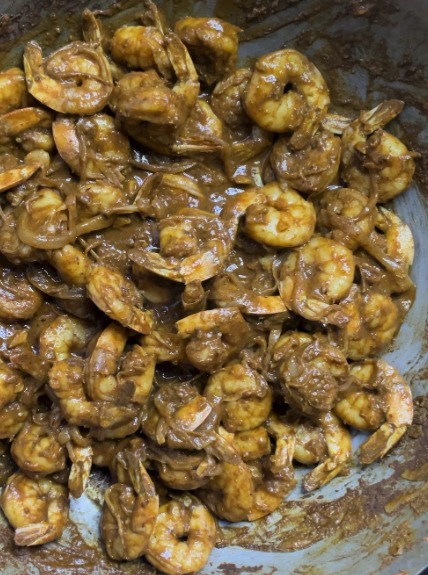 By measuring out the oil and coconut milk ahead of time, it's possible to make a high protein, lower calorie version of Amma's Shrimp Curry.
This is a common strategy I employ with fats to control for total calories.

Per serving (makes 4 servings): 35g protein/10g fat/0g carbs OR 250 calories
Tools
Weighing scale
Wok
Wooden spoon
Ramekins
Ingredients
1 Tbsp avocado oil (or any neutral oil)
½ an onion cut into half moons
2 heaping teaspoons Jaffna curry powder. Curry powder varies drastically region to region. I use Niru brand curry powder, but any style should work.
4 gloves garlic chopped fine
½ inch of ginger chopped fine
1 Tbsp Amma's 5 spice
115 ml coconut milk. I look for coconut milk without emulsifiers. Best case, it's just coconut and water.
2 pounds peeled and deveined shrimp
Salt to taste
Prep
Make Amma's 5 spice. Roast together [fennel seed 2x, cumin seed, coriander seed, black pepper, raw rice]. Grind to a fine dust in a coffee grinder
Cut the onions, garlic, and ginger
Weigh out all the ingredients into separate ramekins. We are going to move fast so prep is key
Steps
Heat wok to medium
Add ½ the oil
Add the onions to the wok. Salt and stir occasionally for 8-10 minutes until translucent
Add the garlic and ginger to the wok. Stir frequently to prevent burning
Add 2 TBSP of curry powder to the wok. Stir frequently and cook for 4 minutes
Move the curried onions to the rim of the wok
Add the other ½ of the oil to the wok. Turn heat up to medium high
Add the shrimp and mix until incorporated
Cook for 5-7 minutes until shrimp is 80% cooked
Turn heat down to low and wait for 2 minutes. Note: If you miss this step, the coconut milk will curdle due to high heat.
Add the coconut milk and put a top on the wok. Let it hang out for 3 minutes
Add Amma's 5 spice
Mix and enjoy
Janahan Newsletter
Join the newsletter to receive the latest updates in your inbox.